Burlesque Map London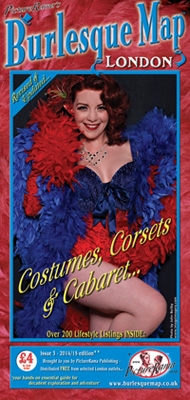 Burlesque Map London (2014/15 edition)
PictureRama Publishing welcomes you to a complete re-issue of Burlesque Map London 3.
This edition delivers a fully revised set of listings and performer profiles. Because no world ever stands still, Burlesque Map London ensures that you, the readers, are constantly provided with the new.
Burlesque Map London brings you an array of sections from shows, clubs, hair and beauty, costumiers, lingerie, accessories, tuition and much more. It is filled with valuable information that will keep you busy while you journey through this saucy, exciting, at times eccentric, universe.
With over 200 listings, it is the leading Map in burlesque, and a most sought-after accessory.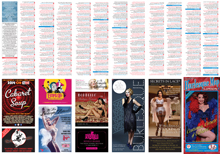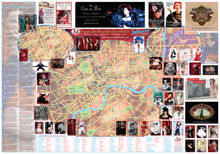 What are you looking for?
Don't encumber yourself with pages and pages of information, or days of internet research. Burlesque Map London provides you with a multitude of listings, so that you find your necessities.
The world of burlesque embraces more than shows and cabarets, and feather fans; it is a world where retro and vintage fashion comes to join the entertainment, so as to offer a panoply of accessories and a full lifestyle. Whether you are an advocate or a new convert, let your imagination and creativity flow and explore this fascinating world.
A new wave of shows and cabarets
The new wave of burlesque emerging in London is a demonstration of grand creative minds, relentlessly reinventing the world of burlesque cabaret. From the bawdy humour to the eccentric, traversing the satire, we are enjoying a rise in male performers such as Reuben Kaye, Benjamin Louche and many more… Some have been part of the scene for a while, some are new, but one fact remains, Boylesque is here to stay judging by the amount of spectators it is attracting…!!
Do not miss out! These are fantastic nights of entertainment! Look at the listing of performers for their websites.
European festivals - Where to go…
Burlesque Map London offers a roundup of some European Festivals. Cultural tourism has its charm; a city has much more to offer than we sometimes expect. Treat yourself to an amazing burlesque show in Europe. Burlesque is a palette of many colourful actors , but with many hues, each with its own delight and charm, from the Milano Burlesque festival to the Stockholm Festival and Paris shows with the Lettingo Production company. So, enjoy each one, be surprised and always expect the unexpected…!
True Burlesque on the Big Screen
Burlesque Map London has a global reach, touching burlesque enthusiasts from the four corners of the planet, and it is with delight that we present you a unique spectacular film by the Canadian filmmaker Jonathan Joffe, 'The Burlesque Assassins' starring the talented Armitage Shanks, Koko la Douce, Roxi Dlite and our very own Kiki Kaboom.
Find out more in Burlesque Map London 3 - and how to view this entertaining, fabulously witty film, where true Burlesque meets comedy and talented acting.
Edition 3 of Burlesque Map London is now available! Get your copy here!